Furniture Restoration …Recycling At Its Best
Furniture Restoration repairs the ravages of time….stains, scrapes, loose joints……but with a little tender loving care you can restore furniture to its former glory and enhance its value.
In its simplest form furniture restoration is applying a stripper, scraping the old finish off, sanding and applying an attractive, modern finish.
Of course the furniture may also have structural problems to repair like loose joints or broken legs.
Quality Wellness Products at Affordable Prices
Also An Outstanding Business Opportunity 
at

The following project illustrates some of the techniques used in furniture restoration.
Restoration of an Art Deco Desk
This desk was acquired, for free, from a yard sale.
Although the carcass and top are in reasonable condition, the drawer fronts needed a lot of attention.
Let's see how it was transformed from this…….
………..into this………..
You can only imagine how much it will sell for now it has been renovated.
This is how the transformation took place……
Step One
Preparing The Drawer Fronts
The fronts have a grain effect paper, which has been pasted onto yellow paint. The underlying material is a gum wood veneer, which forms the base for the final finish.

---
Initially heat was applied to the finishes, before an attempt was made to scrape them off.
As you can see this method did not work.
---
So a citrus based paint stripper was used to weaken the adhesion between the finishes and the base material. Always remember to wear  a mask when handling chemicals such as a paint stripper.

Allow 24 hours before commencing to scrape off the finishes.
Scrub off residual paint and lightly sand to finish off.
---
Step Two
Prepare the Carcass
Apply stripper to the body of the vanity unit……….allow time for the stripper to act………scrape off paint.
Remove any remaining paint in corners and crevices using a delta sander and an awl.
---
Step 3
Repair and Sand Drawers
Pull drawer bottoms out and sand interiors using 100/120 grit paper.
Place glue blocks on the bottom of drawers to stiffen them and to ensure they are square.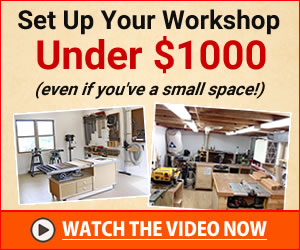 Fix new handles. These Art Deco Bakelite handles, which are original, were purchased on eBay
---
Step 4
Repair Damaged Carcass
Cut and glue new rails, which will stiffen up the sides of the case.
Replace the panels below the drawers on each side with new pieces.
Reproduce beads in the middle of the panel by cutting out the beads from the existing pieces.
---
Glue and nail the panels in place and insert the old beads into the new panels.
Step 5
Finishing the Carcass

After thoroughly sanding the entire piece, apply shellac with a dark pigment to the new pieces of wood.
Paint the entire carcass with a dark walnut stain and finish with two coats of shellac.
---
Step 6
Finishing Drawer Fronts
The drawer fronts, which will be a lighter colour, are sealed with two coats of shellac.
Apply a red mahogany dye.
Final coat is dark walnut, half and half cut with naphtha and then scuffed.
---
The completed desk looks like this…..
My thanks to Woodworking Edge for the photos illustrating the transformation of the Art Deco Desk.
There are several excellent books which describe the many techniques used in furniture restoration. Here is a selection…….
Everything you need to know about repairing and conserving furniture……
Carving, Graining, Turning, Gilding, Parquetry and Marquetry


Directory of tools, materials and equipment

Solving common problems….scratches, dents, splits, warps and watermarks


256 pages  5 star rating
---
Expert tuition on painted and faux finishes

Detailed instructions on how to achieve gold leaf distressing and graining effects

Illustrations showing before and after makeovers

192 pages   Best seller
---
How to restore, recycle and transform furniture

Range of projects with step by step instructions

Five hundred illustrative photographs
Advice on how to apply polishes, fabrics and the painting of intricate designs
If you live in the UK you can gain inspiration for new projects from the BBC programme 'Money For Nothing', which can be viewed on BBC iPlayer………….4 episodes are currently available.
You may like to read some of my other articles…….
Quality Wellness Products at Affordable Prices
Also An Outstanding Business Opportunity 
at