Starting a woodworking business requires investment in several ways….in your time…..securing a workshop….purchasing tools and equipment.
I have broken the process down into 7 steps……
Step 1 Decide on your Woodworking Niche

Step 2 Do Your Research

 Step 3 Decide on a Location for your Workshop

Step 4 Plan your Workshop

Step 5 Purchase your Tools and Equipment

Step 6 Other Things to Consider

Step 7 Selling your Product
1. Decide on your Woodworking Niche
Wood….
what a wonderful material to work with…..so many different woods to choose from, each with its own characteristics and unique features.
You can fashion wood into a wide spectrum of beautiful products….from a huge kitchen dresser to an attractive pendant, or a bird box to a rocking horse.
I have selected a range of unique, handcrafted gifts you can buy from Etsy …..Just click on the image for full details.
Whatever you decide to make you will need a good set of plans to work from. Jim McGrath has assembled a huge range of plans from which you can select your favourite designs, which will form the backbone of your portfolio.
Now is the time to step back and analyse which spectrum of the woodworking universe excites you the most.
Whatever you choose, do enjoy your time in the workshop and be enthusiastic about what you make.
Having decided on a product there are two constraints that have to be considered. Firstly can you afford to buy the tools and equipment required to make the product.
Take a look at my post

'

Essential Woodworking Tools And Equipment

'

which suggests the tools you require to set up a furniture making workshop.
Secondly, do you have sufficient space to establish a large enough workshop?
See Point 3 below.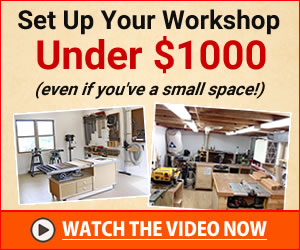 2. Do Your Research
Researching your chosen product falls into three parts….design, asking price and desirability.
Nowadays researching design is a comparatively simple exercise. Pinterest, Instagram, Etsy, Not On The High Street and the many auction sites are huge sources of inspiration for design ideas.
However you must create your own personal style, drawing upon the work created by others for inspiration..
Desirability is harder to evaluate. However if you search for your product on the above sites you will soon see whether you have much competition.
Strong competition is no bad thing, as it shows there is demand. You just have to make your product more desirable through an excellent finish, better functionality and an attractive price.
Another way is to search for a similar product on eBay. It will show you how many have been sold and the number of 'watchers'.
3. Decide on a Location for your Workshop
There are three primary locations to consider….an Attic, a Basement or a Garage, although wood crafts, such as jewelry, could easily be undertaken in a bedroom.
Here are the pros and cons of each location…

.
An Attic
Pros  
Possibly a large open space

Power supply is readily available
Cons
Unacceptable levels of vibration and noise

Restricted access for materials, equipment and finished products.

Floor maybe unable to support heavy equipment

Slow evacuation possible in the event of fire

Dust extraction and ventilation systems would have to be installed
Basement
Pros
Solid floor can support heavy equipment

Power supply is readily available
Cons 
Many of the factors that apply to an attic also apply to a basement.

Garage
Pros
Solid floor

Electric supply readily available

Easy access for materials and finished products

Ventilation and dust extraction systems much easier to install
Cons
Sound insulation maybe required

Possible complaints from neighbours regarding noise and traffic

Do you need permission to pursue a woodworking business
4. Plan Your Workshop
There are two primary considerations to consider, the first being workflow.
In a woodworking shop the work should follow logically from one operation to another without undue movement.
You can see what I mean in the illustration of this workshop layout of a garage.
---
The second consideration is being able to access your tools readily. Therefore a system of storage is essential.
---
5. Tips On Tools
Buy the best tools you can afford. It's an investment in your future and your reputation. No craftsman can create outstanding work with inferior tools.

Only buy the tools you need to carry out the job in hand. You can always add to your toolbox as the need arises.

The cost of tools is an allowable business expense, which will help to reduce your tax bill. Just remember to keep your receipts.

You don't have a business without your tools, so do get them insured.

If you are travelling to your customers in a van with your tools in the back, it is wise to bring them into your home each night.

Engrave your name or initials on your tools. Identification marks can help identify tools in the event of a robbery

Always keep your tools sharp by using a bench grinder
6. Other Things To Consider……



Buy the right wood at the best prices.
You may have to go to two or three different suppliers. Firstly a high street DIY chain for rough sawn softwoods, maybe a different supplier for high quality planed and treated softwoods and finally a specialist supplier for a full range of hardwoods.
Decide which products you are going to make and obtain plans to make them.
You can save a huge amount of time and make a professional product through following detailed plans.
There is no better source of plans than the 16,000 plans offered by Ted McGrath. You can see the quality by looking at my post entitled
Ask the right price. 
Make sure you get a decent return on your labour. The only way to determine how much you can pay yourself is to record the time it takes you to make the product.
Test the market.
Don't spend money buying materials and working all hours building up stock, until you can estimate how many you will sell.
7. Selling Your Product
There is no use making a product unless you can sell it, so put your prototype up for sale and see what happens.
Online
Online is not the place to sell large items of furniture, but is ideal for wooden jewelry and small toys.
This is not an exhaustive list, but just a few ideas to get you started.
Zibbet
Amazon

….
search for handmade or gift ideas
Offline
The cost of transporting large items of furniture long distances becomes prohibitive, so it's best to concentrate your marketing efforts on the local vicinity. Here are some suggestions.
Your locality probably has a monthly magazine where you can advertise your furniture.

Local magazines are always looking for contributors, so write a piece about your business or furniture making in general.

Street markets at the weekend or farmers markets could also be places to display your wares. Display photos of your work in a book, so potential customers can appreciate the range of your work.

Supply furniture to local hotels, antique and furniture shops on a sale or return basis, making sure your business card or brochure is nearby.

Request our monthly newsletter and occasional emails