Woodturning

Wood…….What A Wonderful Material
Wood is such a rewarding material to work with. There are so many different woods, each having their own characteristics…..colour, grain. knots, workability
In depth books have been written about woodturning, so this article can only be an introduction to a truly fascinating craft. I have included a series of tips, links to YouTube videos and a bibliography of useful books at the end of this article.
I have selected a range of unique, handcrafted gifts you can buy from Etsy …..Just click on the image for full details of your selection.
Tips and Tricks



1. Keep Your Tools Sharp



It is so important to keep your tools sharp by using a bench grinder or, better still, a slow speed wet sharpener. Gouges, parting tools, skew chisels and scrapers will cut cleanly, without 'grabbing' the wood, if they are kept sharp.
Be careful to maintain the bevel of the tool and the tool's concave edge when sharpening.
2. Position Your Hands Correctly



You must keep your fingers away from the cutting blade, whilst maintaining full control of the tool.
Hold the handle of the tool in your right hand, whilst your left hand is in contact with the tool rest with your forefinger

under the tool.
Rest your left hand against the side of the tool rest with your thumb on top of the tool. Steady the tool between the forefinger and the tool rest.
3. Select The Correct Speed  To Turn The Stock



Stock is turned by a variable speed lathe at between 500 and 4000 rpm. You will learn to judge the correct speed for particular sizes of stock through experience. However remember this rule 'the wider the stock, the slower the speed'.
For a comparatively narrow piece of stock, say less than 21/2″ in thickness, the speed should be about 1500-2000 rpm. Thicker pieces should be turned at about half this speed.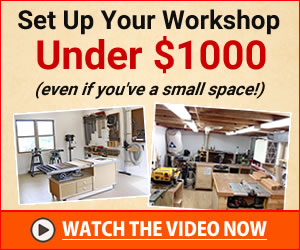 4. Keep The Tool In Contact With The Rest



Maintain a gap of about a quarter of an inch between the rest and the stock.  Your cutting tool should be supported by the tool rest before coming into contact with the wood.
Following these guide lines ensures you maintain complete control of the tool head.
5. Go With The Grain



A golden rule of woodturning is to always work with the grain. This is often referred to by seasoned woodturners as 'cutting downhill'.
For example if you are hollowing out a cove, cut from the edge towards the centre.
It is far harder to control when you work from the centre to the edge and could end up with the tool grabbing.
6. Hands Up Or Down



The rear hand (holding the handle) should always be lower than the forehand (on the tool rest) when using chisels, gouges, parting tools and other cutters.
However the reverse is the case when using a scraper. The rear hand is higher than the forehand, which allows the scraper blade to be beneath the tool rest.
7. It's Harder Than It Looks



I certainly don't want to put you off woodturning as its a great hobby, but it does take a quite lot of practice to master the art.
Nearly every novice woodturner will suffer from it…..I'm talking about 'death grip'. The tendency is to hold the tool much too firmly, which 'chokes' the tool.
 After a while you will relax your grip, which gives you better control of the tool head.
Before you invest in a lathe and a set of tools, it may be worthwhile taking a few lessons. Nothing beats hands on experience under the watchful eye of an experienced woodturner….this how I got my first taste of woodturning.
Many experienced woodturners are happy to pass on their skills, so take a look in your local directory to see whether you can find one.
Here are my top five books on woodturning

…….
They are all available through Amazon.
Woodturning for Beginners Handbook

by Stephen Fleming
Ideal for the novice woodturner, including overview of techniques, finishing, safety and best practices.
The writer only started his woodturning journey a few years ago, so knows the challenges that have to be overcome.
Includes step by step instructions for 10 starter projects.
---
Weekend Woodturning Projects

by Mark Baker
Describes 25 projects which can be completed using just six basic tools….spindle roughing gouge, parting tool, spindle gouge, bowl gouge, skew chisel and scrapers.
Each project has a list of  the materials and tools required along with dimensioned drawings.
---
Learn To Turn

by Barry Gross

How to choose a lathe that suits you.
The basics of woodturning tools and how to sharpen them.
12 step by step projects, a section on trouble shooting and an inspiring gallery of completed work.
---

Small Woodturning Projects

by Bonnie Klein
Internationally acclaimed woodturner, Bonnie Klein describes12 step by step projects.
They illustrate a wide variety of  techniques and decorative embellishments, which will greatly enhance your woodturning skills.
---
Woodturning…..A Foundation Course

by Keith Rowley
This experienced woodturner has formulated his 'Laws of Woodworking'…..six rules for carrying out woodturning safely and efficiently.
There are detailed instructions for 12 simple projects….goblet, apple and pear, bowl, platter. bar stool, balusters. plinth, inlaid nut bowl. pepper mill. table lamp. twist pen…..
---
Tutorial Videos
We have all heard the saying 'A picture paints a thousand words' How true that is, especially in the case of woodturning.
I've selected two of the best videos I can find…..
The first is

'Lathe Basics;
made by WOOD magazine
Just click on the image to open the video
---
The second video is '

Four Cuts….A Basic Turning Lesson

'
Comprehensive introduction to using each type of cutting tool
---
Request our monthly newsletter and occasional emails
You may like to look at a couple of my other posts………
Get even more inspiration by visiting my Pinterest boards and Instagram site.