Drill Bits, Glues and Sandpapers

Use The Right Woodworking Bits, Sandpapers and Glues

You can save a lot of time and make a higher quality job if you know which bits to use for a particular job in hand.
Common Drill Bits
Twist
Drills through sheet metal, angle iron and flat iron, as well as rough drilling through many materials including wood. Available in a wide range of diameters.
---
Brad-point
Could be mistaken for a twist bit but has a centre spur and side spurs to stop it wandering off line. Makes clean cuts in wood but should not be used on metal.
---
Auger
Bores long straight holes into thick softwood. The threaded bit point ensures the bit cuts true, whilst the spiral cutting head brings the shavings to the top. Works best in a brace and bit.
---
Counterboring
Drills a pilot hole and a countersunk hole to receive a screw head and
plug. Takes 5, 6, 8, 10, 12 and 14 wood screws and 1/4″, 3/8″ and 1/2″ plugs.
---
Forstner
This bit, which should be used with a drill press, cuts a very clean hole with a flat bottom. Mainly used for fine w
oodworking and hardwoods.
---
Countersunk
Cuts a cone shaped hole so that the head of the screw is flush or slightly
recessed.
---
Spade
Useful for boring holes through studding for cables or for cutting mortises prior to cleaning the hole with a chisel. Use wherever precision is not a consideration.
There are a large range of woodworking bits for routers, which are covered in a separate post.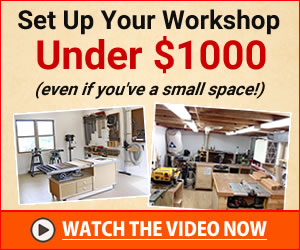 ---
Top Tips
Use A Backing Board To Prevent Splintering
No matter which drill you are using, splintering will occur under the board you are drilling unless you take precautions.
Put a piece of scrap board under the workpiece to prevent the tear out occurring.
If you are using a metal drill press table, attach a semi-permanent board to the press. This board will prevent tear out and save your bit from being damaged by the metal table.
Use A Drill Bit Collar To Ensure Consistent Drill Depth
---
If you are drilling a lot of holes which need to be a certain depth then you can speed things up by using a collar on the bit. Three suggestions are shown above…….a rubber washer, masking tape and a purpose made collar which you can buy in the woodworking section of most hardware stores.
Use The Right Glue For The Job
White and Yellow Glue

Use on…..wood, paper, cloth
Where……interior use only
Bond….fairly strong  (Yellow has a slightly stronger bond than white)
Dries in….several hours
Safety…..no harmful odours
Cleaning…..soap and water
Liquid Hide Glue
Use on…..fine furniture, musical instruments
Where……interior use only
Bond….good bond but sets slowly
Safety…..eye irritant
Cleaning…..soap and water
---
Polyurethane Glue
Use on…..many materials, including wood, metal, ceramics
Bond….strong bond and dries quickly
Safety…..can cause immediate lung damage. Not to be used by asthmastics. Working area must be well ventilated.
Cleaning…..acetone and mineral spirits
---
Construction Adhesive
Use on…..plywood, panelling, flooring
Bond….very good
Safety…..no concerns
Cleaning…..mineral spirits


Contact Cement
Use on…..laminates, veneers……
Bond….Sets instantly. Dries within an hour
Safety…..Very flammable, Irritant to eyes,
skin, lungs
(Non-flammable available)
Cleaning…..Soap and water
---
Hot Glue
Use on…..wood, plastic, glass…
Bond….generally low strength
Safety…..sets in 60 seconds
Cleaning…..heat will loosen bond
---
Two Part Epoxy
Use on…..wood, metal, glass
Bond….Strongest bond of all. Drying time varies
Safety…..Fumes are very toxic, flammable
Cleaning…..Acetone
---
Instant Glue
Use on…..smooth surfaces like glass, ceramics, plastics
Bond,,,,,excellent bond. Dries in a few seconds
Safety,,,,Toxic. flammable. will bond to skin instantly

---
Sandp

apers
There are many power sanders on the market, but in this article I am only covering hand sandpaper. The following chart gives the full range of sandpapers available from very coarse to super fine.
Make sure that you sand a piece sufficiently, so that all blemishes on the surface of the wood are eradicated. Once you apply a stain any flaws will be magnified many times over.
A good tip is to shine a light over the workpiece from a low angle. If you stand facing the light, any blemishes will immediately become evident.
Sanding blocks and sponges, which fit comfortably in the hand, are available not only as blocks but also in moulded shapes to fit common architraves etc….
Here is a selection of woodworking hand sanders and blocks…..
Top Tip
You may have found that the backing card used for fine sandpaper soon gets worn and torn.
To prevent this happening and to prolong the life of the sandpaper, stick duct tape to the back of the sandpaper to reinforce it.
---
Request our monthly newsletter and occasional emails
You might like to read some of my other posts on woodworking, which you will find on my
Home Page